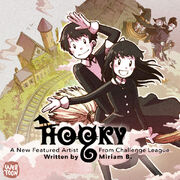 Hooky is a fantasy webcomic written and drawn by Míriam Bonastre Tur. It is published on Webtoon. The webcomic follows the two young witch twins Dani and Dorian Wytte after they missed the school bus.
Dani and Dorian have missed the bus of the school of magic.
Now, they must find someone who teach them how to be a great and good witches...
External Links
Edit
References
Edit
Ad blocker interference detected!
Wikia is a free-to-use site that makes money from advertising. We have a modified experience for viewers using ad blockers

Wikia is not accessible if you've made further modifications. Remove the custom ad blocker rule(s) and the page will load as expected.